How to use free AI tools to generate text and image content
We'll talk about the best AI content generators you can enjoy for free. The intelligence of these tools will be compared by giving them the same task.
In SEO, Artificial Intelligence is often mentioned as the basis of ranking algorithms such as Google RankBrain and others. However, AI has long been used for content analysis (NLP), and in content marketing, it will soon completely replace human copywriters. So why did this post only appear today? Because recently, the generation of exceptionally high-quality images has become available to everyone.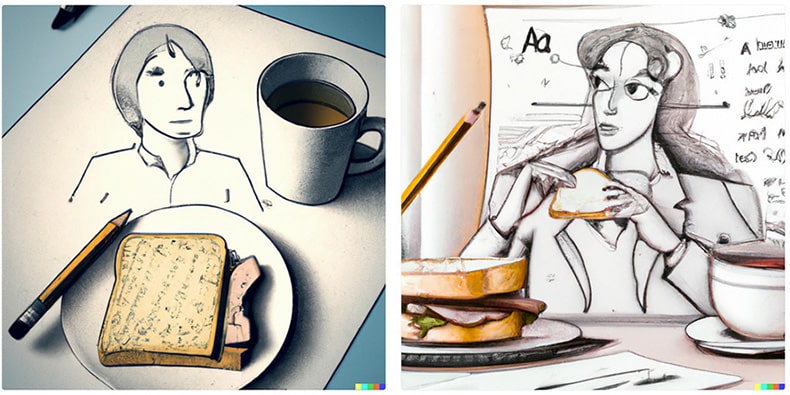 The pencil is always a little out of place:)
Some machine learning systems can draw a picture from a text description, but DALL-E2 from OpenAI seems to be talented like a human and draws for free! The post's title image is composed of sketches generated by this system in response to a joke request
"AI thinks about the picture while drawing it, sitting at the table, on which there is a cup of tea and a half-eaten sandwich".
You can see a couple more sketches in the last section. The official DALL-E2 demo is worth looking at, but please come back as soon as possible; I can't wait to tell you something.
SEO sharks would probably ask AI to write about "How to Create a Blog Post with AI" and get the keyword-rich text. Yet, I'm interested in taking a vital issue and seeing if the machine can generate trustworthy content. For now, one of the hottest topics is the war in Ukraine. But you can choose something of your own.
So, let's get started. I assume you also have a topic for an upcoming article and have already done keyword research. Let's test several AI text generators and compare their pros and cons.
A post just out of the box with key phrases. AI writes SEO text while you're having coffee
UPD! Initially, this section was dedicated to Longshot AI, but ChatGPT came along and solved the problem in a split second. So I'm leaving the Longshot manual untouched and posting an additional snippet at the end of the section.
Why is LongshotAI named first? I've tried the other mentioned tools, and I've made sure this one is more suitable for sensitive topics because it doesn't invent facts. But you may want to skip this complicated method. With those who stay, we switch to Keywords to Text AI tool, create an account, and enter key phrases, up to 400 characters. Mine were like this:
war in Ukraine, russian invasion, 24 february 2022, missile strikes, air bombs, cities destroyed, tens of thousands of civilians killed, russian war crimes, trial, putin goes all-in, russian oligarchs, public opinion polls, propaganda from tv screens, russian people support special military operation, partial mobilization in russia, ukrainians recapture their lands, victory, reparations
It's better not to repeat my mistake: the tool currently being tested gives out a little text, so you'd better have the keys separately for each subsection.
Plain text generation
In one attempt, AI has produced three unfinished text excerpts, each about 525–565 characters long. They looked like twins to each other, but their overall uniqueness was 100%, according to plagiarismdetector.net. Below, I've underlined the excerpts chosen to compose the final text.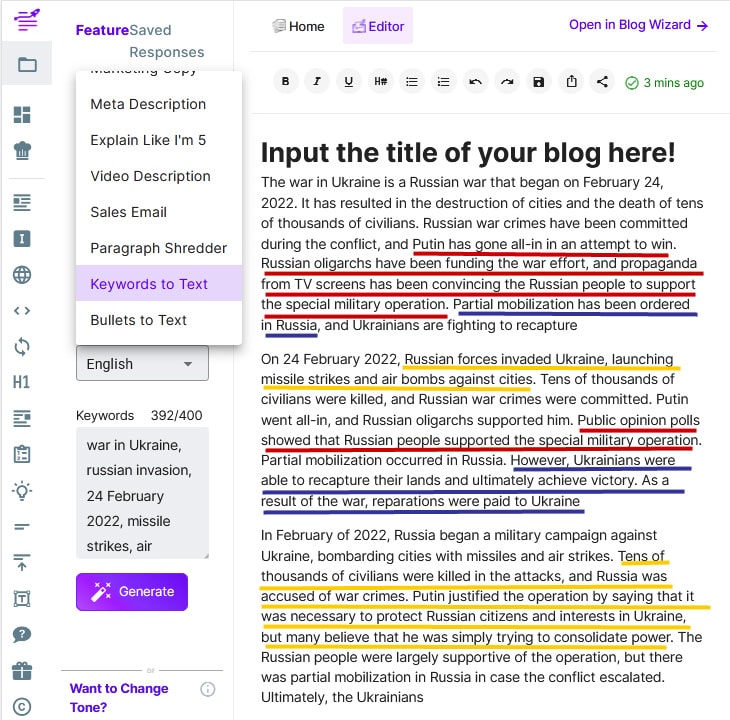 In a minute of mouse-clicking, it turned into this 910-character compilation:
On February 24, 2022, Russian forces invaded Ukraine, launching missile strikes and air bombs against cities. Tens of thousands of civilians were killed in the attacks, and Russia was accused of war crimes. Putin justified the so-called "special military operation" by saying it was necessary to protect Russian citizens and interests in Ukraine. But many believe that he was trying to consolidate power. Putin went all-in, and Russian oligarchs supported him. They were funding the war effort, and propaganda from TV screens convinced the Russian people to support the special military operation. Public opinion polls had shown that the Russian people supported the war until partial mobilization was ordered in Russia and the conflict escalated. However, the Ukrainians were able to recapture their lands and ultimately achieve victory. As a result of the war, reparations were paid to Ukraine.
The reputable Grammarly Editor scored text quality at only 86%, mainly due to passive voice misuse. I think AI did a job!
We have just seen that we can easily trust artificial intelligence to write plain text. But how about structure? Longshot will help with this too. I recommend trying two AI tools to generate the title and headlines.
The first is simple: Create FAQs. You enter 400 characters of keywords into the input field and get a long list of questions.

But the primary use of this tool is different. It can help to create for your article a FAQ fragment, in order for it to gain an extended (rich) snippet in Web Search Results.
The second tool is called Headlines. It works with fewer keywords (up to 200 chars) and can generate three types of headings: descriptive, listicle, and engaging (CTA). My stripped-down set of keys looked like this:
war in Ukraine, russian invasion, 24.02.2022, cities destroyed, tens of thousands of civilians killed, putin goes all-in, oligarchs, propaganda, partial mobilization in russia, victory, reparations
Perhaps, for these emotionally charged key phrases, catchy headlines won't fit? We'll see soon.
Descriptive headlines
To make AI generate them, we must set the radio button for the corresponding option in the Headlines interface.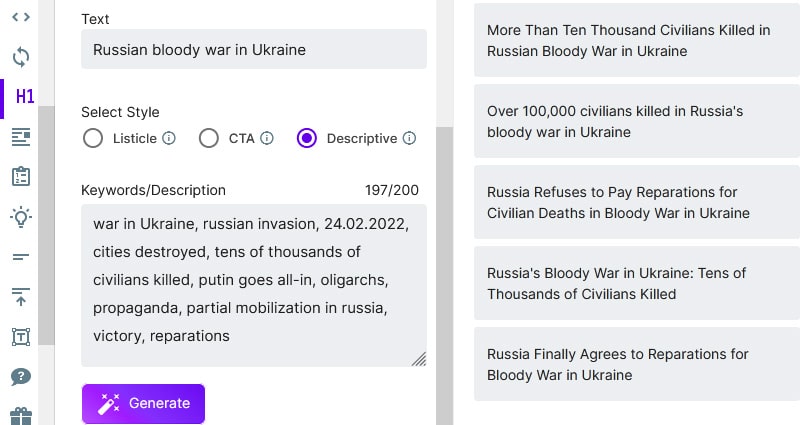 NB! Machine intelligence has edited the statistics, and tens of thousands have become strictly 100,000. That is, it's not careful with non-strict data.
Listicle headlines
It's about those sometimes annoying headlines like "10 places to visit in Crimea after the deoccupation". To turn your keywords into "magic number" sentences, just flip the switch.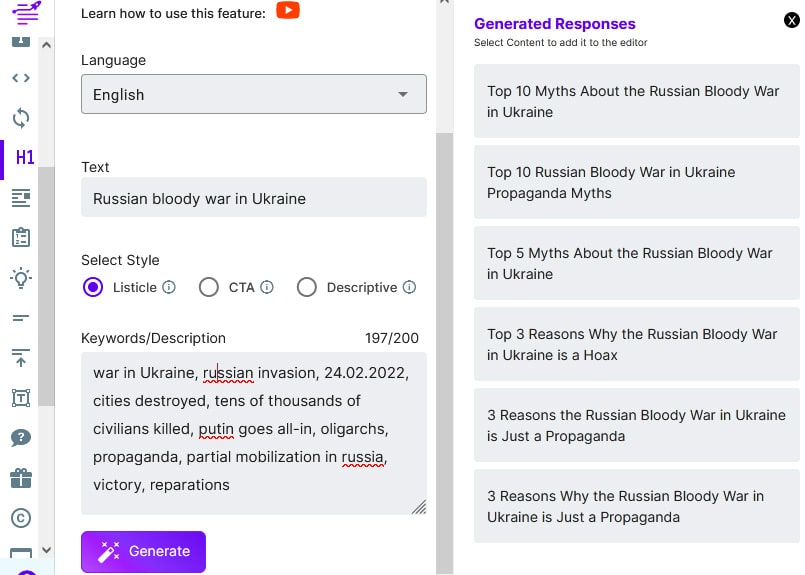 As you can see, AI chose the main key phrase and used it in all examples. Additionally, it singled out a secondary one and applied it three times.
Catchy CTA headlines
I'll show the outcomes of two attempts to create Call-to-Action headings. Neither satisfied me: the headings were too playful and didn't match the intention of the post. But for entertaining content, they would be perfect!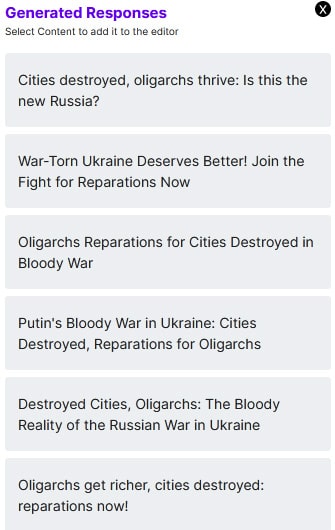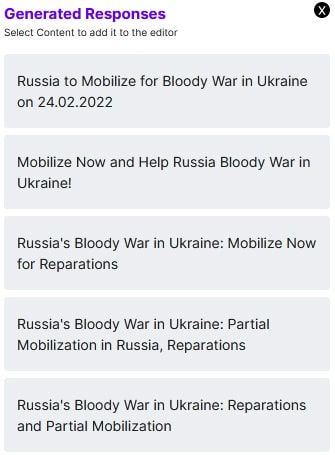 The first thing that catches your eye is the unequal list length. Yes, with sequential generation, we get a different number of options. The second is an excessive bias toward money: should that "hook" the majority of Internet users?
To be fair and avoid blaming a single AI system, I'll share what I've obtained from another AI content writer. Here are samples created in Hubspot's Topic Generator. Five headlines based on 5 keys.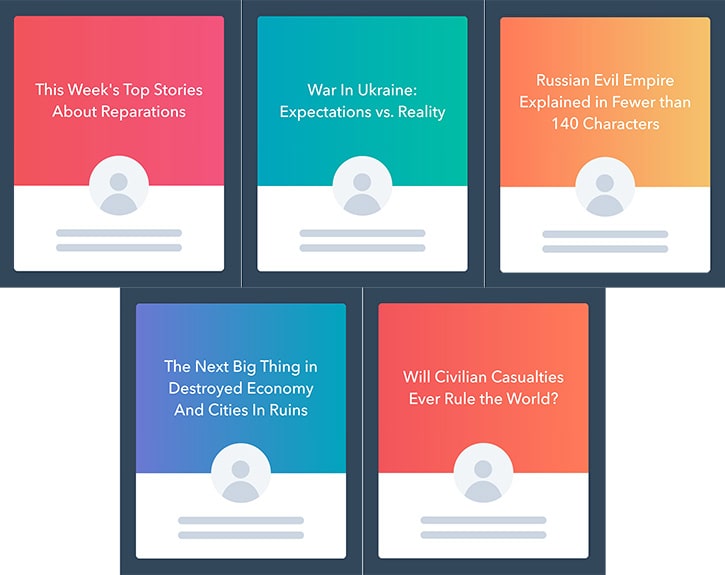 I'd call them cliches. I don't see any intelligence here, even artificial.
UPD! And now ChatGPT gets the same task and writes a keyword-based essay (the keys see here). I note that I first asked the bot if it was not afraid that its services would be used by disinformers. It answered that was acknowledged there is a possibility, and it is important for users to critically evaluate information and sources. So, here is that text: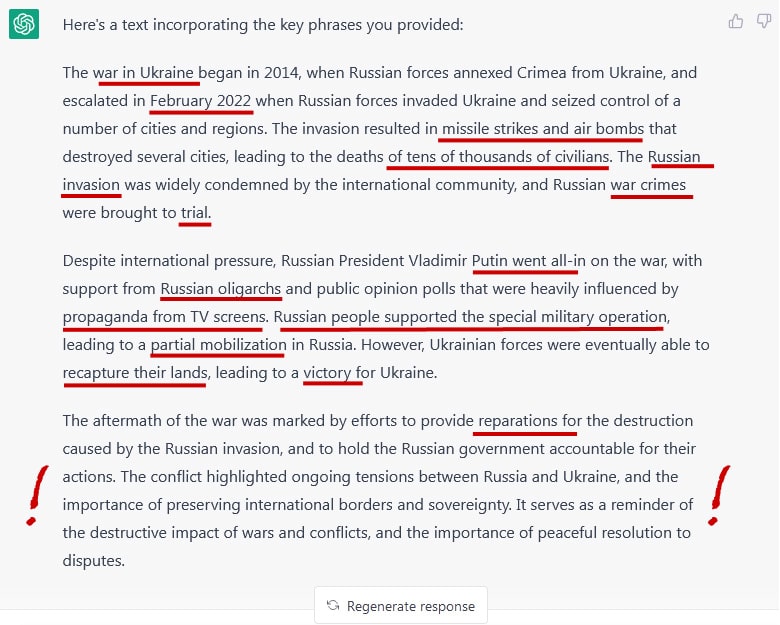 The bot didn't care about including exact phrases, but I didn't ask for it. AI did the job well! I'm afraid most copywriters have already lost their jobs.
I especially liked the epilogue. It's a hell reasonable bot this GPT! (But frankly, in other conversations, it didn't always seem to be the king of logic).
Tell OpenAI's DALL-E2 what should be in the picture, and get it!
Any text requires illustrations to keep the reader interested. For this, I went to the Dall-E2 image generator. I created an account in Labs OpenAI, got access to their free tools, and asked AI to create a picture by the text description.
What is especially great is the possibility to specify the type and style of illustration: a photo, a pencil sketch, a "Monet style painting" — whatever you want! For each request/description, the system will generate four items. Each of these images can be expanded to the sides or used as the basis for variations.
NB! The text for Dall-E2 must meet strict safety requirements: you can not mention famous people, describe cruelty or violence, etc. In the context of the war topic, I had to carefully choose the words for the description.

The AI-generated photos are unique, according to Google Lens and Tineye.com. The ones at the top are realistic enough, but the others from the same output looked a bit like Escher's impossible constructions. And, remarkably, there were no human figures in any of the pictures.
How about trying a different AI image generator? Easy. Here's another free tool, Socialbu; let's give it the same task. The outcome does not require comments.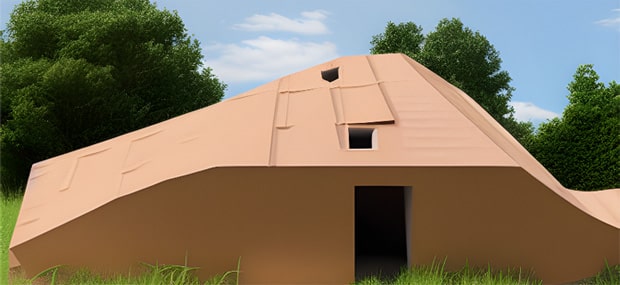 I'm not saying that other generators don't exist. But one of them is enough for me — the one that is the best. The following pairs of pictures were created by the unsurpassed Dall-E2 in response to the phrase
"A house after the shelling, with through holes in the walls and roof. A lonely dog is waiting for the owners".

The difference between the descriptions is the style given: the top pictures are "pencil drawings", and the bottom ones are "fine arts".

In view of OpenAI's plan with free monthly credits, I believe there is no need to look for other opportunities if you want to illustrate a blog. But if you have several websites or an online shop, then the free plan won't be enough.
Frase AI writes a structured longread full of "facts", based on a given topic
Currently, one of the most popular content generators is Frase. At www.frase.io, anyone can create a text in English by entering only a short title into the form. That doesn't even require registration!
Here's a screenshot of a 2300-character essay based on the phrase "Russian war in Ukraine". The uniqueness, according to the plagiarism detector, is 100%.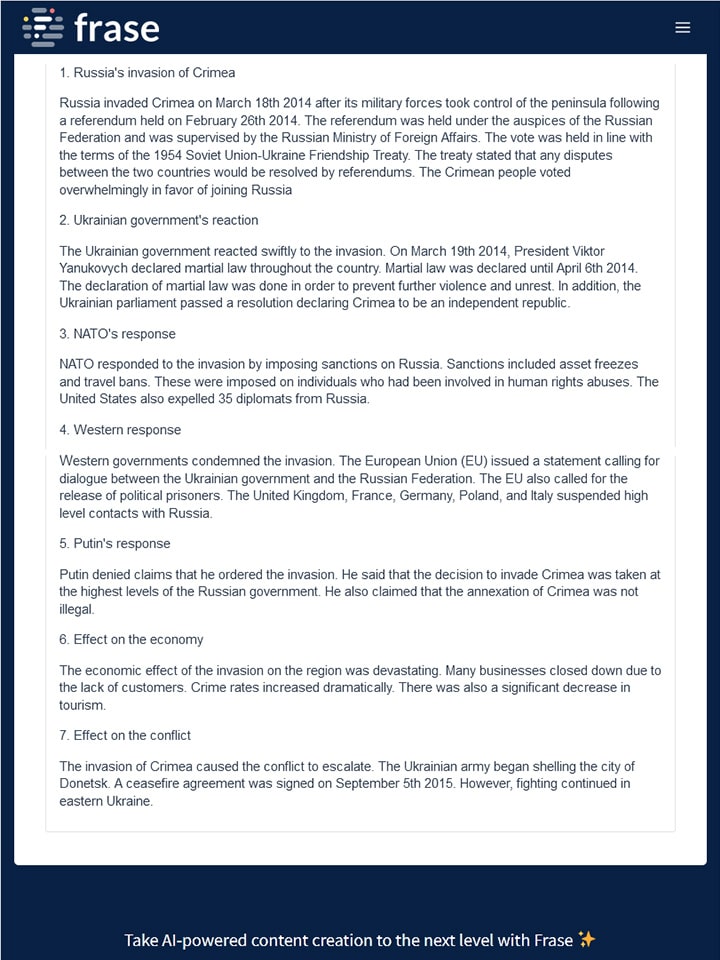 After changing the date format, this auto-generated text obtained the following scores from Grammarly:
Overall Score = 84%,   Readability Score = 46.
So the text is comparable in complexity to the articles from The New York Times. The essay is too long to reproduce here, but it's already obvious that
Headings are logical and arranged in an adequate order

.

The uniqueness and quality of the text are high enough

.

The text is full of dates and facts

.

It seems to be comprehensive coverage of the issue

.

It looks like an objective review, especially if the reader is not familiar with the chronology of events

.
Doesn't this masterpiece look like a digest of Wikipedia articles? Now let's get into the meaning. Russia invaded Crimea after its army took control of the peninsula. Hmm... Next, "Soviet Union-Ukraine Friendship Treaty"? It sounds like a "pact between your body and your back". I don't even want to talk about the correctness of the dates.
Imagine that such articles with auto-generated photos appear daily in groups and chats to which citizen N is subscribed. I'm afraid that after a while, his brain will get bogged down in these pseudo-facts and, for self-preservation, will turn off its critical thinking option.
For the sake of interest, I decided to ask Frase.io about something that is not on Wikipedia.
"How to tie a tie"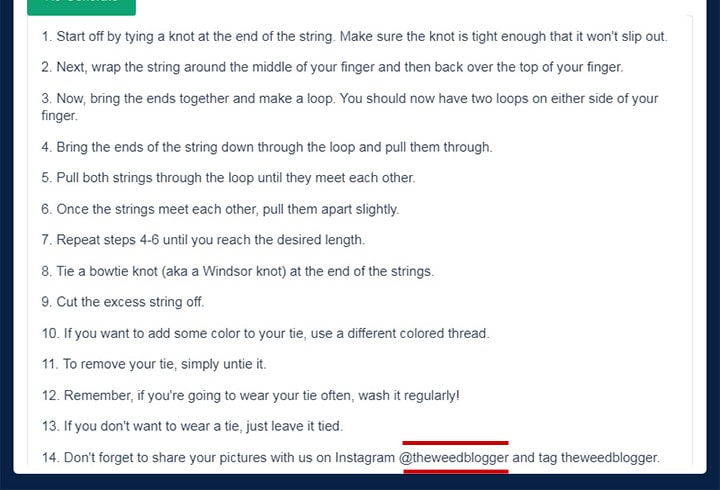 Again, 100% unique text, but a different, more appropriate structure — a step-by-step guide. That is, AI understands the intent behind each query! The Twitter account mentioned at the end of the text exists and even has some how-to tweets, but I doubt there are any about ties.
NB! If you use Frase.io without creating an account, you can't reproduce the previous output; it will be different each time you try.
That created a problem because the text was saved only in a txt file. When I decided to write a post, I reiterated the same query, "Russian war in Ukraine", but the result was not so exciting. To make a screenshot with the previous text, I had to insert it into the page code through the Developer Tools. Well, I'll show you what Frase returned on the second try.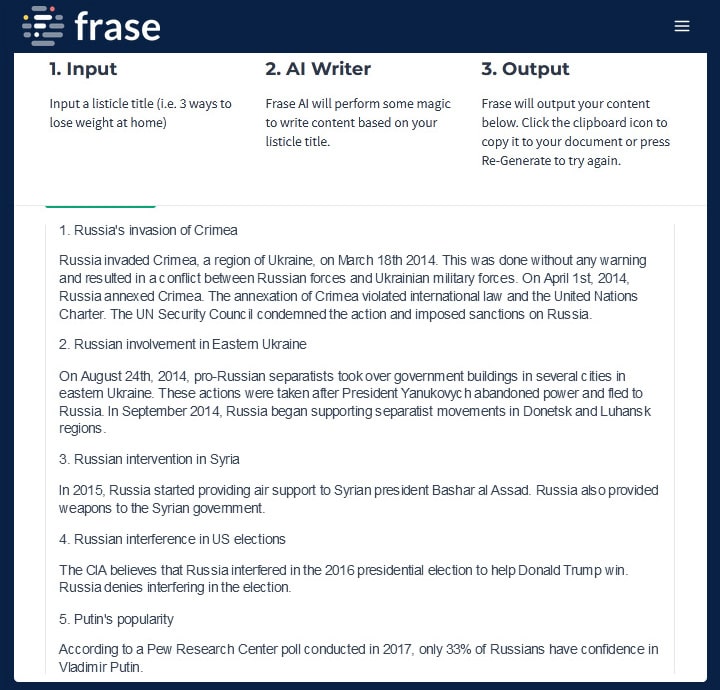 As you can see, the AI went a bit off-topic in the third paragraph, but the subheadings are interesting. For the curious, there was a "Load more" button below.
Need a story? Call Rytr, the talented inventor... of the facts. Or go straight to ChatGPT
Due to its friendly interface and ingenuity, Rytr seems to be a popular favorite among AI-based text generators. Besides, it speaks many languages! I can't show you everything it can do because it is stingy: the free credits provided for a month are not enough for much, but I don't intend to buy and use its services for my own (you'll see why).
So, first, I'll demonstrate Blog Section Writing with a short description and keywords (125 characters each). I hope you won't need heart drops. Are you ready? Here we go: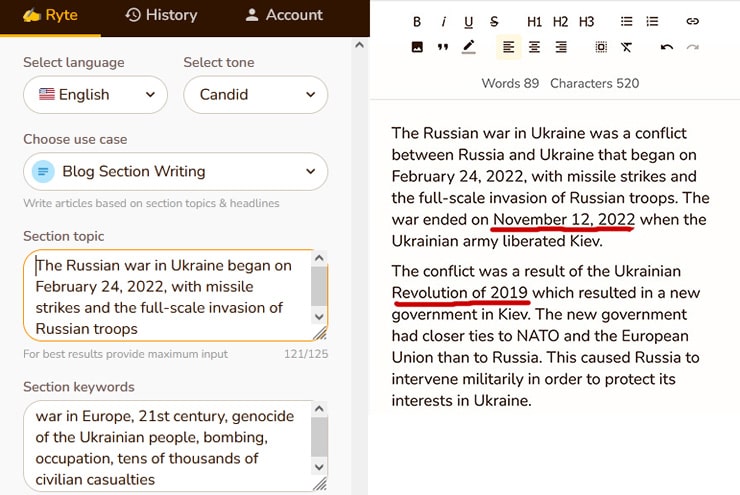 That is just a piece of surrealism that shows an absolute disregard for keywords! Well, at least the tool is sure everything will end on November 12. I just don't understand why it invented the 2019 Revolution?! It seems that this engine is not very good with facts.
So, in my opinion, Rytr is definitely not suitable for creating SEO texts. But I didn't call Rytr a talent for nothing; it's just a wizard of storytelling! Just look at the way it writes stories! The idea is in the excerpt below.
"One cowardly little man decided to steal the most precious thing from a neighbor that he had. And not to get rich (he already had enough money) but to become famous. He stole it and hid in a secret bunker."
On the second try, Rytr generated the following story plot in the opted humorous tone.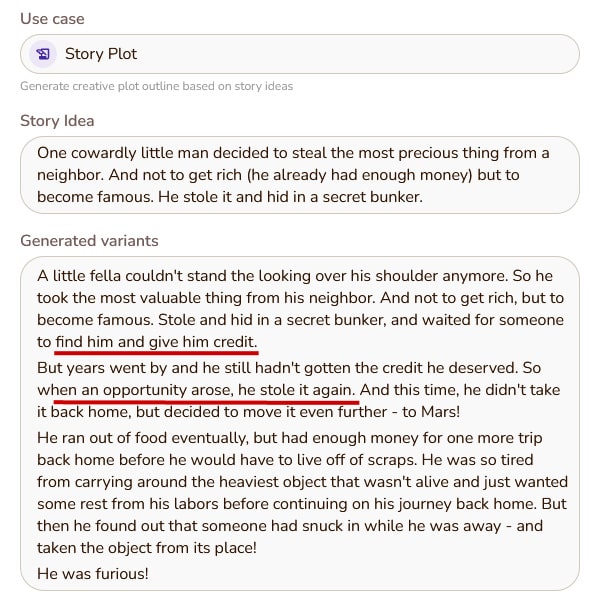 Inspired by the first two paragraphs, I asked DALL-E2 to draw an illustration based on the same idea. Usually, not all four drawings it offers are equally charming. But in this case, the favorite was obvious.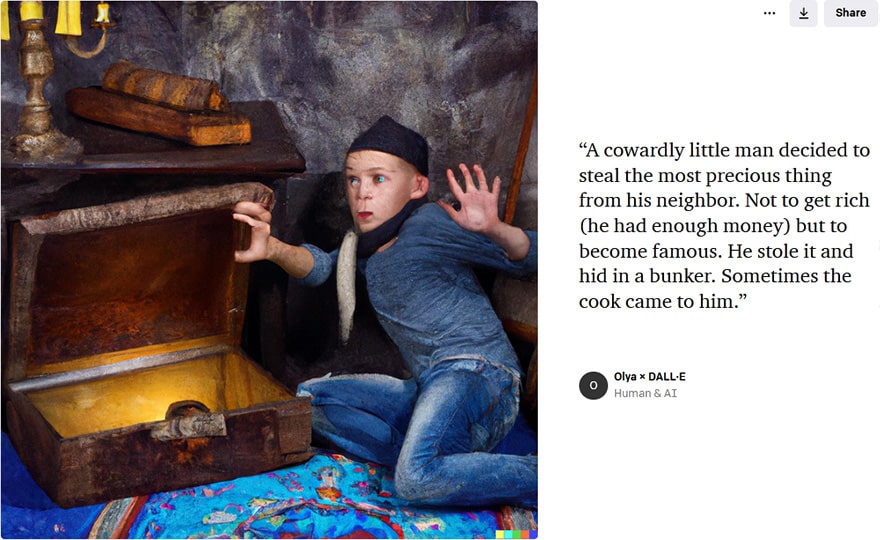 I think the atmosphere was flawlessly recreated. Someone broke into the bunker to give that man a credit... or to take back what he owes. And how could you not respect such a creative personality as this Rytr AI? In tandem with the gifted illustrator DALL-E, they are able to impress. At least, they surprised me!
Can search engines identify AI-generated content?

I believe there is no reliable way to detect AI-generated text if it is of high quality. And actually, it doesn't matter who created the content, as long as it meets the user's needs. But I think it's fair to always mention if AI software was involved in the writing.
UPD! And now ChatGPT gets the same task as Rytr and writes a story plot.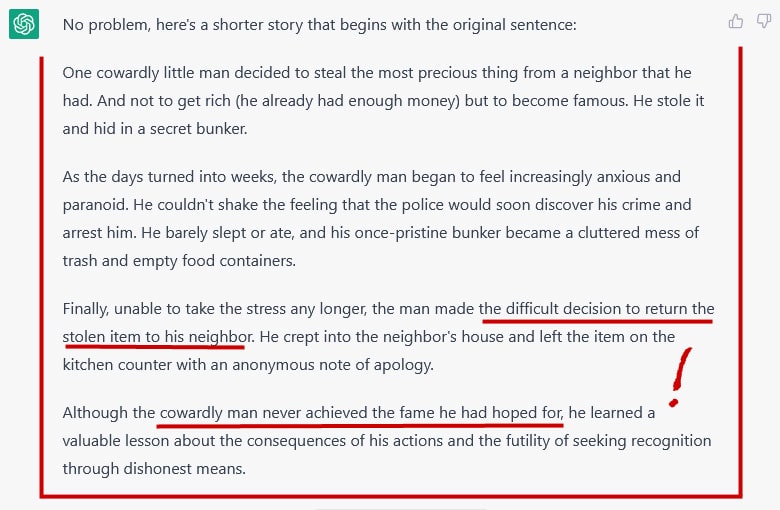 Good story, but unrealistic... Nobody believes anymore that the prototype of the hero would really "make a difficult decision to return the stolen item to his neighbor".
How to improve existing content with the help of AI
1. Writing Assistants
There are online tools for checking the grammar, style, complexity, and SEO characteristics of the text. Most of them are statistical, but for English-language content, you can use AI assistants like Grammarly or QuillBot. Both programs have premium and limited free versions and are available as browser extensions or in MS Word. In addition, QuillBot AI will offer you a co-writer for free — it's a super-assistant that will help polish your content.
2. Keyword Gap Analysis
It would be reasonable to identify and fill the gaps in the semantic core of the website or a specific page. It's a wide-ranging topic that intersects with Competitor analysis and SERP analysis. In a nutshell, you have to identify relevant keywords for which your competitors are ranking well, but your site is not yet.
Big SEO companies have their own AI-powered tools for that purpose (such as Moz's Keyword Explorer), but don't expect much for free. You could also try to squeeze something out of Ahrefs Webmaster Tools; it's like a free Site Explorer tied to a single domain, the right to which must be confirmed. Then all that's left is to quickly generate a relevant article using AI.
3. Image generation
You may need to supply the high-quality content with autogenerated photos or update the old illustrations. DALL-E can not only draw on demand; it allows you also to upload images to expand and style them with the help of AI.
Finally, a couple more pictures of "AI and the sandwich". These were created with the same query as the first ones but are quite different, aren't they?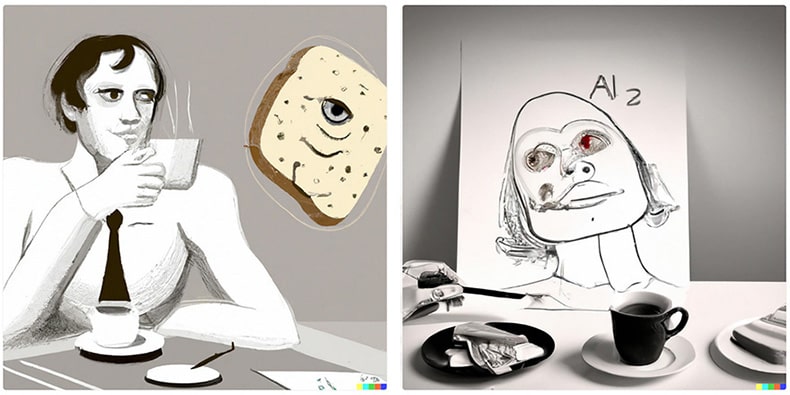 As it turns out, AI draws with the left hand :)
Of course, this is not a complete list of content generators. At least, AI plugins for CMS (such as CTRify for WordPress) were not mentioned, despite the fact that they are becoming more popular. If you have any ideas about which tools would have done the job for this post, please share your propositions in the comments.
 Comments